Diploma in General Nursing & Mid - Wifery Course (GNM)
The programme of study leads to a 3 and 1/2 year B.Sc. in a Prayavi School Of Nursing recognized by KNC and INC New Delhi. Eligibility : PUC / H.Sc/10+2 with any group Duration : 3 1/2 Year
Philosophy
There is a considerable development in all aspects of medical profession and nursing profession in one of the most important part in the development of Clinical Care of patients. Besides, they form part and partial of management of patient's care and health problems. Keeping this in view Surabhi NGO Welfare Organization thought of starting School of Nursing, an institution par excellence in the backward area of Bidar district. This school of Nursing is known as "Prayavi School of Nursing", BIDAR.
Profile
For number of years the patients of Bidar district were forced to go to Hyderabad for investigations and treatment. These patients faced the problem of Language, stay and expenses at Hyderabad. Besides the distance between Bidar and Hyderabad was a great handicap for serious patients. Some times this distance costed the lives of patients. Taking into consideration all these problems of diseased persons the Yerolkar family started "Prayavi Hospital" which serves the patients with modern facilities and patients are treated with State of art facilities and specialist doctors of reputation. Medical profession in Bidar will be proud to known that some of the patients came back from Hyderabad and got cured with the most advanced techniques in surgical management. This hospital was started on 30th April 2002 as a multispeciality Hospital comprising of well equipped major and minor OT, ICCU, NICU, Accidents and Emergency Ward, Labour Room, Trauma & Critical care unit and the hospital is successfully running 6 major departments of General Surgery, Peadiatries, General Medicine, Ortho-paedics, ENT, Gynecology etc. This Hospital also offers free Consultation to polio victims, handicaps, Victims of AIDS, Senior Citizens (60+), Freedomfighters, BPL etc. The committee which inspected this hospital was all praise for the medical services offered in this hospital. This hospital is also recognized for Yeshasvini (farmers insurance scheme), Arogya bhagya (Police dept.) KPTCL, mediassist, TTK, Good Health plan etc. Within a short span of 2 years we have successfully conducted 760 operations and 175 yeshasvini patients were operated. Taking all these factors into consideration Karnataka Govt. is pleased to permit us to start a School of Nursing at this Hospital. The permission of Govt. of Karnataka was accorded through G.O. No. HFW / MME 165, Dated 20-02-2004.
Objectives
Completed 2 year Pre-University examination or equivalent as recognised by R.G.U.H.S with science subjects i.e., Physics,Chemistry and Biology.
To give training in nursing care of patients for all types of diseases.
To educate them to participate in various programmes in prevention of diseases and promotion of Health in the community. They will carry out theses programmes in co-operation with medical and para medical personnel.
To impart the knowledge and help them to develop skills to carry out national programmes in prevention and treatment of diseases.
To help them to understand the emotional back ground, the physical and mental status of the diseased person.
To help them to understand the mental hygiene, ethical and moral standards involved in the practice of nursing.
To prepare them & to educate all others around them to have healthy living.
To keep up the standard of Nursing Profession.
To prepare them to take care of Community health in rural areas, by regular home visiting, health education, and domiciliary nursing care and midwifery.
Admission
The candidates must have passed P.U.C.II/P.D.C or H.S.C. in arts, Science and Commerce.
The minimum required percentage is 45% of total marks in science subjects of the qualifying examination and the application form with six passport and stamp size photographs.
Conduct,Transfer Certificate,Medical Fitness Certificate and Migration Certificate.
Should have completed 17 year of age on or before 31st December of the year of admission.
The candidates with higher marks in science subjects in qualifying Examination will be given preference.
The candidates must have completed seventeen (17) years age on or before the date of joining school. Knowledge of English is essential.
They should be physically and mentally fit to undergo this course.
The dully filled application form should be submitted to the authorities of the School in duplicate.
The application must be filled by the candidate only. The application should have the following enclosures.
School leaving Certificate.
S.S.C. or S.S.L.C. passing certificate & marks list.
Character Certificate from two persons not below the rank of gazetted officers. Character certificate from the Principal of the College last attended by the candidate. A certificate from the registered medical Practitioner regarding physical and mental fitness.
Certificate of other educational qualifications and extra curricular activities.
Five copies of recent Passport size photographs.
Only Xerox copies of the certificate to be enclosed. Original to be produced at the time of interview. The candidates will have to appear for interview on their own. They will appear / for entrance Examination before admission. The selection committee will scrutinize the applications, verify the certificates and interview the candidates to select for admission to School of Nursing. The decision of the Committee is final.
The application form and prospectus will be available in Prayavi Hospital, Rs. 100/- to be sent on A/c payee D.D. in favour of Prayavi School of Nursing Bidar.
Application is sent by Registered post.
Course And Outline Of Training
The candidates are provisionally selected. They will undergo three months preliminary training. At the end of this training there will be an Examination. The successful candidates will receive their uniform and will attend Oath taking ceremony and continue their studies. The candidates, who fail in this preliminary training, will be given another chance to appear for Examination. This preliminary training will be Three months duration. During this period the student will be assessed in his / her aptitudes, abilities and knowledge to continue in this course of nursing. All the students are required to wear uniform, during their first three months of the training. After that the white uniform will be of frock, shoes and stocking. They should be not wear ornaments like ring, earrings, bangles etc.
Syllabus For The Course :
Clinical Experience
Student should be assigned for observing and practicing what they are learning under supervision the clinical area. Minimum Clinical field Experience required and its suggested placement is as follows Minimum clinical field experience required and as suggested placement in the curriculum is as follows:
Break Up Of Hours Of Clinical Experience :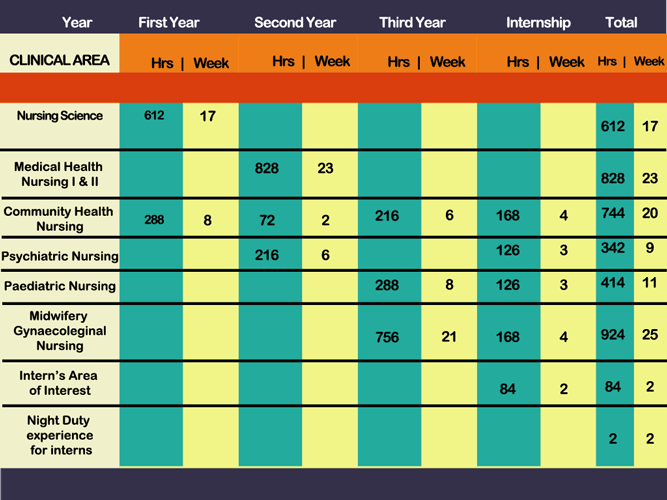 Night Shift
Students will be under the supervision of a registered nurse when assigned to night shift. This assignment shall not be given until after the first year and a total of eight weeks during the entire course.
Rural Posting And Other Duties :
They will be trained in rural Health programmes. The students will participate in the continous Health programme and gain experience in community nursing and Health care. They will be posted in rural areas for their clinical experience, time to time as per I.N.C. requirement.